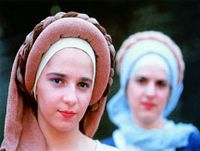 What's happening in Umbria....
May 2005
Assisi - Calendimaggio - 5th May to 7th May
Commemoration of popular traditions
It is a spectacular evocation of medieval and Renaissance costumes and life. The two ancient medieval districts, the "Parte di Sopra" and the "Parte di Sotto", engage in a spectacular challenge which takes the form of theatre shows, concerts, songs and choruses, dances, processions, archery, crossbow and flag-waving displays. The districts compete in a singing contest among the spectacular floral decorations, flags, torches and candles.